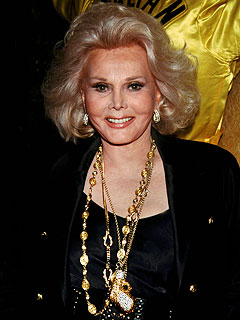 The precarious health of Zsa Zsa Gabor took a dramatic turn Sunday night when the veteran glamour girl was again taken to Ronald Reagan UCLA Medical Center, this time to have part of her right leg amputated.
"They just picked her up," Gabor's husband, Prince Frederic von Anhalt, told PEOPLE shortly after the ambulance arrived. "They may have to take her leg from the knee down."
He said further, "She wanted to stay home and have a holiday. They wanted to do this before the holiday, but now the doctors have forced us."
He added, "She is strong."
Gabor's spokesman, John Blanchette, explained: "She developed a lesion on the leg that had swollen a while back and caused her to go to the hospital for treatment, but it has not responded. In fact, it has increased in size, and the doctors have wanted to operate for several days."
The wound had grown from just over an inch to about a foot in length, said Blanchette.
Echoing von Anhalt, the spokesman also said, "Frederic and Zsa Zsa asked if they could spend New Year's at home, and [they] shared champagne and caviar. The doctors came to the house today [Sunday], and when they unwrapped the bandages, [they saw that] the wound had festered and they were afraid of gangrene developing, which would be life-threatening."
With von Anhalt accompanying her, Gabor, 93, was taken to the medical facility at 6:30 p.m. and was prepped for surgery.
"She will lose the lower half of her leg below the knee," said Blanchette. "It's a dangerous operation, but the upside is that, if successful, she will remain her same old feisty self for a few more years."